En pleine préparation pour Novembre 2011, le projet de la nuit de la glisse en 3D qui au départ s'appelait the 3dimensional, change pour Pushing the Limits 3D.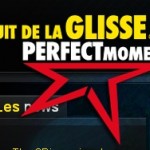 Le film montrera dix histoires de freerider à travers le monde, pour une conquête de liberté et d'harmonie avec les éléments.
.
.
.
Une expérience tridimensionnelle à vivre en pleine nature.